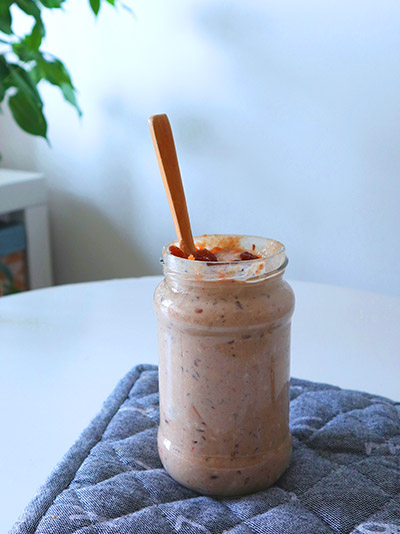 Carrot Break Overnight Oats
"We know Ready is very delicious when prepared hot, but did you know you can also enjoy it cold? Especially now that the weather is getting better and better, overnight Ready is just what you need! And the best of it all? It's so easy to prepare!"
---
Serves
 1
Time 
 5 minutes
Difficulty  
Super Easy
---
Vegetarian Vegan
---
Nutrition per serving
Of an adult's reference intake
Preparation
Before going to bed, put 100 grams of Ready Carrot Break (that's 3 scoops) in a coverable container or jar. Or just grab a single serve cup. Optionally, you can add in some seeds or nuts for extra texture.

Pour in 200ml of cold water or any kind of milk. Optionally, you can also add in some seeds or nuts for extra texture.

Stir and cover the container and put it in the fridge overnight.

In the morning, just grab your jar or cup, give it a little stir again, top it off with whatever you'd like and enjoy your breakfast!
A new recipe every week.
Subscribe to get an awesome new recipe each week!
Comments
Join the discussion