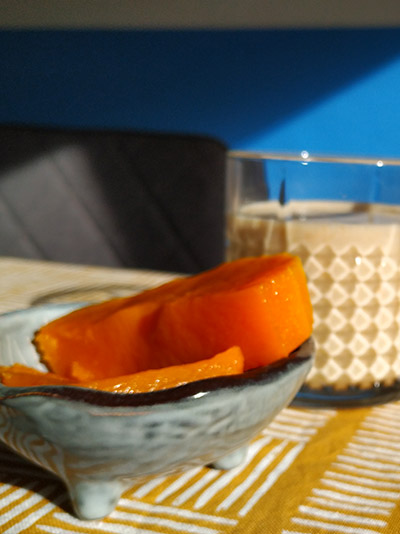 Orange Pumkin Shake
"Spice up this Halloween with a pumpkin shake. This easy blend of pumpkin and spices will definitely get you in the mood for some mischief. Just don't forget to blend very carefully."
---
Serves
 1
Time 
 1H 20M
Difficulty  
Not Too Tricky
---
Vegetarian Smoothie Experimental
---
Nutrition per serving
Of an adult's reference intake
Preparation
Skin the pumpkin and chop into small (2cm) pieces

Put in the oven on 200C for about 50 minutes (until the pieces are very soft).

Wait until it's cooled down a bit, then put it in a food processor (or use a blender).

Add the salt, pepper, and the spices/herbs that you have available (and/or to your specific taste).

In a shaker, put in the water and Queal, shake.

Then add the pumpkin mixture (eat the rest another time( and shake again.

Enjoy!.
A new recipe every week.
Subscribe to get an awesome new recipe each week!
Comments
Join the discussion