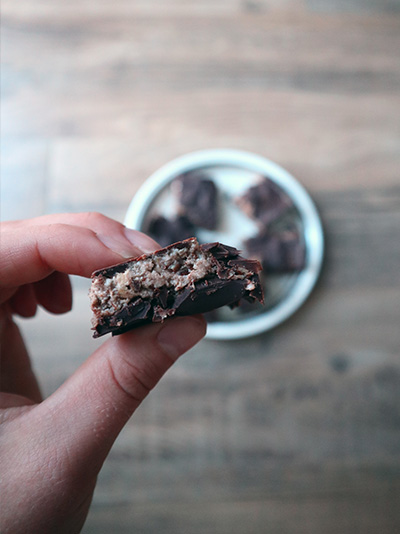 Mocaccino Bites
"Coffee and chocolate: a match made in heaven! These delicious bites are super easy to make and the perfect solution for when you're craving a little snack. Store them in your freezer and be sure to always have a nice little treat ready!"
---
Serves
 8
Time 
 5 minutes
Difficulty  
Super Easy
---
Vegetarian Delicious Caffeine
---
Nutrition per serving
Of an adult's reference intake
Ingredients
Preparation
In your mixing bowl, put together the Queal STEADY, rolled oats, the grounded flax seeds and the water. Mix it using a fork or a really small whisker.

Set aside for a few minutes.

Cover the container with a piece of parchment paper.

Now, put the chocolate in the other bowl and microwave for about 1,5 minutes. Keep an eye on it, make sure the chocolate is completely melted.

Take the melted chocolate out of the microwave and use half of it to cover the bottom of your container.

Now, put all of the Mocaccino batter on top and make sure it's divided evenly using a spoon.

Top it off with the other half of your melted chocolate.

Close the container and put it in your freezer for at least 12 hours.

After this time, you can take the container out, lift the parchment paper and use a sharp knife to slice it in 8 pieces.

Store the mocaccino bites in the freezer.

Whenever you're in for a nice snack, all you have to do is take one (or multiple) Mocaccino Bite(s) out, let it defrost a bit and enjoy!
A new recipe every week.
Subscribe to get an awesome new recipe each week!
Comments
Join the discussion