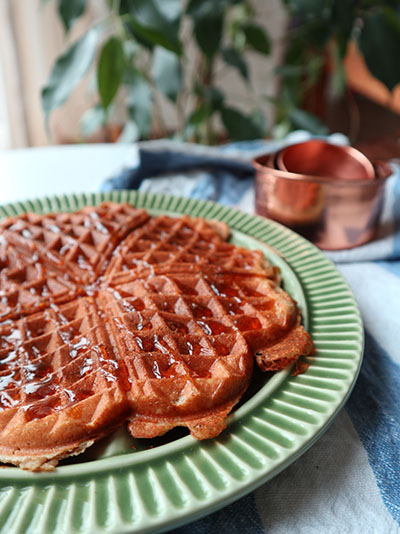 Walnut Wonder Waffles
"The simplest, yummiest and nuttiest waffle recipe out there, using our current Limited Edition Walnut Wonder and a waffle iron. Our heart shaped waffles turned out to be perfectly crisp on the outside and soft on the inside, yum! Hands up if you're going to try them!"
---
Serves
 2
Time 
 30 minutes
Difficulty  
Super Easy
---
Delicious Baking
---
Nutrition per serving
Of an adult's reference intake
Preparation
Slightly grease your waffle iron and turn it on.

In a bowl, combine all of the dry ingredients and whisk.

Then add the milk and oil, whisk again. Make sure your batter is free of lumps.

When the waffle iron is ready, carefully pour in a bit of the batter. If you happen to have any measuring cups at home, we found an amount of ½ cup worked well.

Close the cover of your waffle iron and patiently wait for a few minutes.

When you feel like the waffles are ready, carefully lift the cover to see if they're ready indeed. Carefully lift the waffle of your iron and set aside. If you want all of the waffles to stay warm, then put them on a wire rack in your oven until the others are ready.

Repeat from step 4.

Your Walnut Wonder Waffles are ready! Optionally, you can choose to make them extra tasty and drizzle them with a bit of syrup. Enjoy!
A new recipe every week.
Subscribe to get an awesome new recipe each week!
Comments
Join the discussion