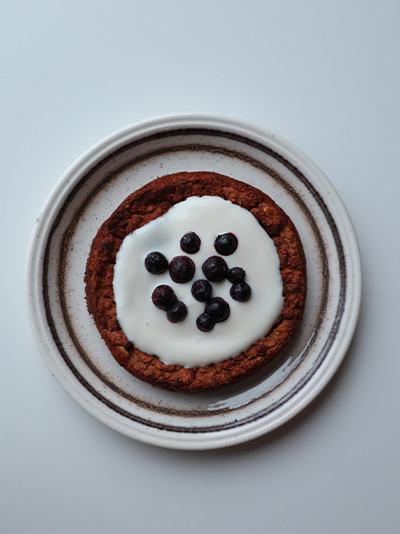 A Berry Good Mini Cake
"Hmm, this mini cake is berry good! Enjoy it when you have a little more time in the morning, a pre-prepared office lunch or as a nice and warm weekend-breakfast (in bed!). "
---
Serves
 1
Time 
 30 minutes
Difficulty  
Super Easy
---
Baking Vegan
---
Nutrition per serving
Of an adult's reference intake
Ingredients
100g Queal Ready Berry Good
100g (unsweetened) apple sauce
50ml (unsweetened) almond milk
1/2 tsp of baking powder
oil or butter for greasing
12cm diameter springform or normal sized breakfast bowl
Optional
sweetener of choice, plant-based yogurt and fresh or frozen berries
Preparation
Preheat the oven to 200C or 390F.

In a bowl, combine Ready, the almond milk, the applesauce, the baking powder and your optional sweetener. Whisk and set aside for about 5 minutes.

In the meantime, grease a the springform or breakfast bowl..

When the oven is done heating up, all you have to do is put the batter in your springform or bowl and bake it for about 20 minutes. .

Optionally, when done, you can top the mini cake with some plant-based yoghurt and berries.

Your meal in a cake is now done, enjoy.
A new recipe every week.
Subscribe to get an awesome new recipe each week!
Comments
Join the discussion