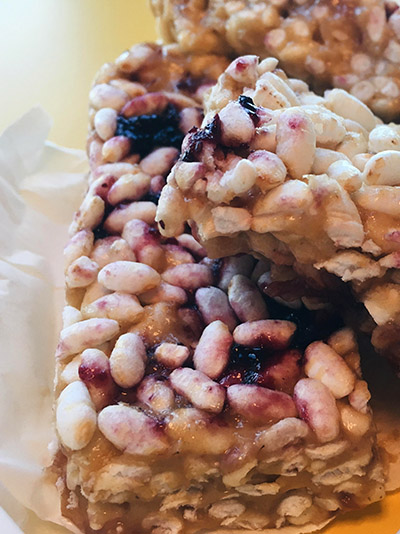 No-bake Raspberry Flow Stacks
"Whoo! Our first recipe using the newest limited edition of Steady: Rad Raspberry Flow. These great snack stacks are made with just 4 ingredients and will surely help you get though the day."
---
Serves
 10
Time 
 1H 10M
Difficulty  
Super Easy
---
Baking Vegetarian
---
Nutrition per serving
Of an adult's reference intake
Ingredients
Optional
Preparation
Mix Queal steady with the water, the eventual 'dough' should be very thick.

Add 150 grams of the rice puffs and keep stirring.

Line a brownie tin with some parchment paper and evenly spread the first half of the 'batter', press evenly. You can use a small piece of parchment paper or the back of a spoon to prevent the mixture from sticking to your hands.

Spread half of the raspberry jelly over the mixture.

Now put the other half of the mixture in the brownie tin, spread and press evenly.

With the other half of the raspberry jelly, create some fruity dots on top of the mixture.

Spread the last 20 grams of rice puffs over the batter and press again.

Cover the brownie tin with some parchment paper or foil and store it in the freezer for about 2 hours.

Remove from the freezer and cut into 10 pieces.

Put you Flow stacks in an airtight bowl and store them in the freezer. Whenever you feel like you could use a healthy snack, you only have to get one out and wait for about 10 to 15 minutes.

Enjoy!
A new recipe every week.
Subscribe to get an awesome new recipe each week!
Comments
Join the discussion